Let me start by saying I've been making microwave popcorn since back in the day.  Actually... my  super microwave skills go back to when I was about 4 or 5.  Oh yes... I got some SERIOUS microwaving skills, but well, they didn't start out so good.
Let me explain.  So when I was a wee little one... a wee little pants mcgee... I wasn't allowed to use the microwave because I wasn't old enough to know how it works.  "Not old enough!?!?" I would say.  Well, I guess soooo... I mean I was the youngin one.  Always not old enough in comparison to my older siblings.  I mean I was also never tall enough to go on most of the roller-coaster rides at theme parks when everyone else in the group was.... soooooo I'd have to hang out on the bench and watch everyone else.  I learned to bring a book along... it was either read.  Or I'd have to just go ride the frogs.  So i'd be sitting there riding some little frog around and around in a circle all day while everyone else was riding the MEGA MASSIVE 12 BILLION LOOP 70 THOUSAND FEET TALL 90 THOUSAND FOOT DROP... AWESOMENESS OF PURE AWESOMENESS
ROLLER COASTER OF SUPER AMAZINGNESSS!!!!!
(the roller coaster went underground)
And here I am on the frogs.  Weeeeeeeee
Ok that's the wrong kind of frog coaster.  Let me look around some more...
Hmmm getting closer... ok just pretend like i'm the mouse.  And that frog is the frog coaster.  Let me google image a little bit more...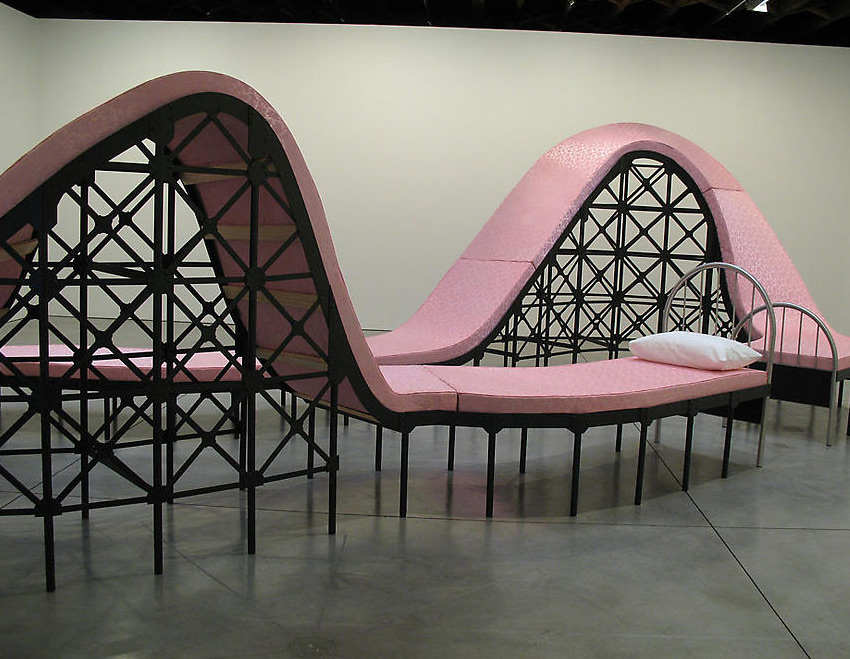 Umm what?  How does someone sleep on that bed!?!!?!
Ok well you know what I mean those little tea cup esk rides... the kiddie ride.
OK annnnnnnnwaaaaaays... back to the microwave story...
SO there I am maybe 5 years old and well I said to myself "We'll seeeeee about THAT!  Can't use the microwave because I'm too young!  Hmmph"... so I woke up SUPER early one morning before anyone else and made my way to the kitchen to make some oatmeal in the microwave.
Now I'd been sneak peaking when other people were using the microwave and taking notes.  Well, not REALLY taking notes... But I pretty much figured it all out.  So I pour in my ingredients and get it all set up and ready.  I put it in my little plastic little kid bowl.
And put it in the microwave.
I watched in awe at my glorious achievement.  Go oatmeal in the microwave... GOOOOOOOOOOOO!
Then something went wrong... very wrong.
Should the microwave be sparking?  Whoa crap... It's sparking!  And making odd noises...  So I pulled open the door.
Ooooooops.  I left the metal spoon in the plastic bowl.
Yep.
And it melted through the bowl.
Double OOoooopsy.
Well... I've gotten much better since then.  I'm now a super microwave guru dude.
So today I figured out a genius way to pop almost ALL the corn in a microwave popcorn bag.  Or as they are called.  Kernels.  SO here's my way of popping:
I put the bag in and set it for a higher number... like 5 minutes.  The bag says to only do it for 2.  But I set it for much higher.  Then my next step is to let it pop for a little while.  After it seems like about half the bag is all popped up... I take it out and open it.  Maybe a little more than half.
Now my next step is to then take the open bag (Careful it's hot!  Don't burn yourself) and get a big serving spoon.
Using that spoon scoop out the freshly popped popcorn but keep the bag tilted upwards.  SO that any of the un-popped kernels then fall down to the bottom of the bag.
Try to scoop out as much as possible and then roll up the end of the bag that was opened and put it back in and hit go again to start the timer.  It will probably be at maybe 3 ish or 3 minutes and 30 seconds left.
Next step is to let it pop some more.  Don't forget to shake the bag up after each time you take it out of the microwave.  Well I let is get it's popping action some more until I see the bag fluff up again.  Then I do the same thing where I take the popped stuff out while holding the bag upright... scoop the popped corn and let the unpopped fall down.
Then put it back in for a little while longer.
I just basically repeat this until there's only a little bit of unpopped kernels.  Some kernels will just refuse to pop no matter HOW long you heat them for!
Again careful since it will be hot!  I generally let the bag sit in the microwave after I stop it each time for a good 5 or 10 seconds.
And there you have it.  Now you know more about my history with the microwave and my new popcorn method.  Oh... And my roller coaster dilemma as a little kid.