Tomorrow is Valentine's Day.  I think it's a nice day either way... I mean... I'm single, and I don't have any plans of the romantic type for tomorrow with anyone.  I'm happy for people who are super in love and all that gushy stuffs but I'm also happy to be single and happy for people who are happy being single too!
My only plan so far tomorrow is work and I'm meeting my family friend Mr. Pete at the pizza place for lunch to talk about music things (he's soooo much like family that I actually call him Uncle Peter)... we just picked a day this week that was the least things going on for both of us at work around lunch time.  We usually meet for lunch a couple times a year just to chat about music stuffs and all that since he's a musician as well.
I wasn't sure exactly what I wanted to post about... but... I've sorta thought of what I want to say...
Ok... So, I think what I'm going to write about is sort of a post about my blog post last year I wrote a few weeks before Valentine's Day...
Last year I blogged two V-day posts... one was on Valentine's Day about my dream girl... I think I was mostly just trying to describe... this.. girl...  She's... well... sigh... she's just awesome... hmmm... yea... She's cute/funny/smart/talented/creative/hardworking/driven/I could go on forever... she's just... one very awesome gal.
Ok... sigh...  but I also wrote a post a couple weeks before V-day about going on a super duper magnificent hot dream date.
So this year I'll write about the date I wish I could go on tomorrow night... but... well, I've been thinking... it doesn't HAVE to be a super hot dream date with someone that I'm head over heals in love with and she's super duper in love with me.  I mean...
That's a lot of pressure!  That would make me sooooo nervous!  And probably make the girl nervous as well!  So instead of some super super whoaaaaaaaaaaa OMG date....
Here's my dream date for this year's V-Day:
It doesn't have to be like whoa in love.  It doesn't have to mean we are in a relationship.  It doesn't have to mean we are together forever and a day.  It doesn't even mean we have to keep talking to each other ever again after the date.
It could just be one single Valentine's Day date and then that'd be all it would be.
I think it would be just amazing to just go on a little date to get some appetizers and drinks somewhere and chit chat for an hour with a girl even if it's just that one date and that's all it is.
It could just be drinks, some food, annnnnnnnnnnnnnnd maybe just one little flower... like some orchids...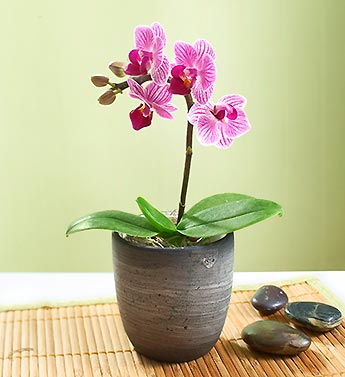 But, it doesn't have to include orchids... unless the girl asked.
hmmm... I think that flower looks very nice....
and it's moderately priced! http://ww31.1800flowers.com/product.do?baseCode=18524&dataset=11784&cm_cid=d11784
It's called a moth orchid... I don't know how romantic moths are....  But... the flower does like nice!
There's lots of other ones though... here's some other Orchids http://ww32.1800flowers.com/collection.do?dataset=10257&conversionTag=true
Anywho... yea maybe just a little meet up at a little restaurant like... bahama breeze or something like that.  I rather like that place... it's an inviting and relaxed atmosphere...
Get some drinks, and a little food to munch on... just chat and have fun and be friends...
and maybe play footsies... ok ok... maybe not so much on the footsies. Ok, no flowers and no footsies... but just... food and drink and funtimes and chatting for an hour.
Yea... that would be fun.  No pressure... just hang out for an hour or so and then go.  I guess maybe the whole over the top super wild extravagant date could be for later on down the road in life... but for tomorrow night...
I'd be so unbelievably happy with just a little fun short date like that.
No expectations.  No "let's keep dating".  No "let's be in a relationship".  No "let's be in love".  No "let's get married and have 5 thousand babies"...
 Just a date.